Our portable storage units are perfect for many different applications.
Do you have a situation where you need your belongings to go to various destinations over a period of time? For example, perhaps you're moving and need to get some items out so that your home shows better, but later you'll need to add more things and have them stored until your new home is ready. The ideal solution is portable storage.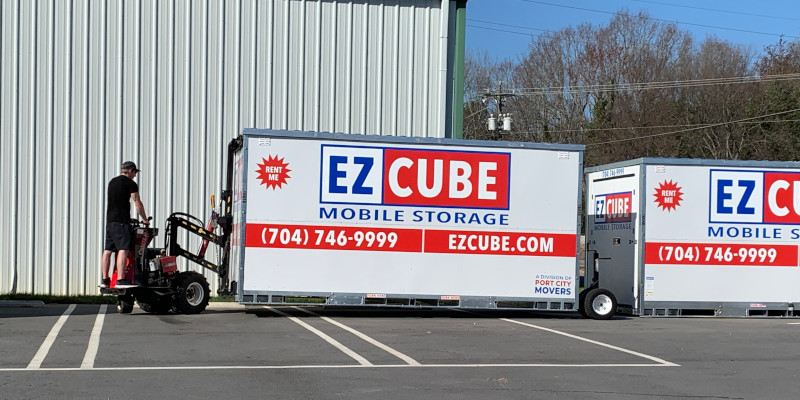 At EZCube Moving & Storage, we have portable storage containers that we can deliver right to your Concord, North Carolina home or business. You load the unit and let us know where it needs to go next. We can bring it back to our storage facility for safe and secure storage until you are ready to have us take it elsewhere.
Our pick-up and drop-off fees are just $75 each way, so you can have your portable storage moved as many times as necessary. We also charge a monthly rental fee, which is $175 while it is on your property or $225 when it is stored at our facility. If you'll be storing your portable storage unit at our facility, the $75 transport fee is only charged at pick-up.
Our portable storage units are perfect for many different applications. In fact, any time that you have a storage space problem, we are a great solution because you can't beat the convenience of having a container brought right to you. It even makes moving a breeze because you won't have to drive a rental truck or worry about loading and unloading quickly to get the truck returned within the allotted time. You can keep our portable storage container as long as you need it at your current location or the new one. Reach out today to learn more about our portable storage units or to reserve a date for your upcoming storage need.
---
At EZCube Moving & Mobile Storage, we offer portable storage services in Lake Norman, Mooresville, Huntersville, Denver, Cornelius, Troutman, Statesville, Concord, Kannapolis, Cleveland, and Davidson, North Carolina.
Similar Services We Offer: