With our reasonable monthly rental fees, our mobile storage containers are great for a variety of uses.
There are times when you need extra room either to store a few things or to ready them for a move. At EZCube Moving & Mobile Storage, we offer mobile storage containers that are ideal for a wide range of situations. We'll deliver a mobile storage container right to your Lake Norman, North Carolina door so it is ready to be loaded with your belongings.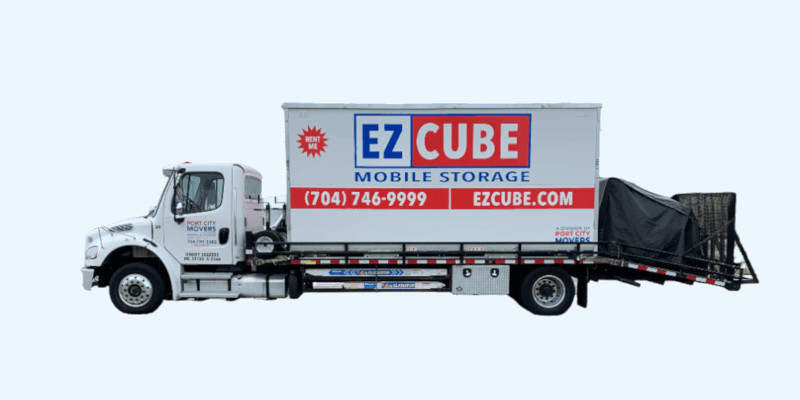 Our mobile storage units are a nice way to eliminate the need to move items twice when you have a gap of time between vacating one residence or commercial property and being able to move into the new one. Just put your items in our mobile storage unit, and we'll pick it up and store it at our facility until you are ready for it. We'll then deliver it on the day you need it and pick it up when you have finished unloading it.
Another useful purpose for mobile storage containers is when you need to remove things from your home or business, so they are out of the way during a renovation project. Once your project is done, you can move everything back inside and call us to pick up the empty mobile storage container.
With our reasonable monthly rental fees, our mobile storage containers are great for businesses that occasionally have inventory that won't fit in their warehouse. Contractors also find them useful for dealing with client belongings or storing the materials they'll use when doing a remodeling project. Our mobile storage containers can be helpful in an endless number of situations! Reach out today with any questions you might have or to reserve a date for delivery of one or more containers.
FAQs About Mobile Storage
Here at EZCube Moving & Mobile Storage, we want to make dealing with situations where you need a little extra storage outside of your home or business easier for our customers, which is why we offer convenient, affordable mobile storage. We're always happy to answer your questions, and below, you'll find answers to some of the more common ones we get asked.
What is the pricing for your mobile storage units?
$175 per month to rent a unit that you will keep on your property.
$225 per month to rent a unit and have us store it for you at the EZCube facility.
Please note that there is a $75 fee for pickup and drop-off. However, if you are storing the unit at the EZCube facility, the $75 fee is only charged at pickup.
Do you offer any supplies for storage or moving?
Yes! If you'd like to add supplies like boxes, storage blankets, packing tape, bubble wrap, or furniture dollies, just let us know, and we'll gladly add the required supplies to your drop-off order. We also offer locks to help keep your items secure while they're in our mobile storage units.
What can I store in my mobile unit?
Anything that you would put in a standard moving truck – household items like furniture, clothing, and appliances, as well as commercial supplies like office furniture are generally fine as long as they don't have temperature restrictions since our units are not climate-controlled. If you're unsure of whether you should put something in your mobile storage unit, simply reach out to us and inquire about the suitability of the specific item.
---
At EZCube Moving & Mobile Storage, we offer mobile storage services in Lake Norman, Mooresville, Huntersville, Denver, Cornelius, Troutman, Statesville, Concord, Kannapolis, Cleveland, and Davidson, North Carolina.
Similar Services We Offer: